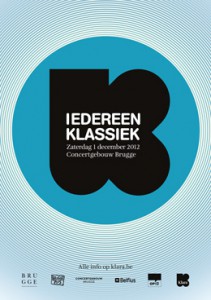 Together with my colleagues from Villa Bota radio (Klankschap, Splinter & Verdwaal) we had the honour to play some music on a Classical music event called Klara's Iedereen klassiek (Klara's everybody classic).
Organised in my home town by Belgium's biggest Classical radio channel Klara.
Unfortunately I couldn't record my set there so I re-recorded it at home!
Hope you like 🙂
Jolas Trio Les Heures
By Jolas Betsy By Ensemble Accroche Note
Etude #10
By John Cage By Grete Sultan
Sonata For Violin And Piano Movement III
By Karel Husa By Elmar Oliveira En David Oei
Arctic Dreams Polar Night
By Michael Colgrass By North Texas Wind Symphony, Eugene Migliaro Corporon
Duo Capriccioso
By Mario Davidovsky By Aleck Karis En Curtis Macomber
II Sehr Getragen Und Ausdrucksvoll
By Anton Webern By Artis Quartett Wien
01-June 5, 2012
By Kenneth Kirschner By Tawnya Popoff En Kenneth Kirschner
Apotheosis Of This Earth III Postscipt
By Karel Husa By Ithaca College Wind Ensemble
Mutations II II With Furious Wilderness Intensity Brilliance And Sound
By Ralph Shapey By David Holzman
Trio For Violin, Cello And Piano
By Donald Martino By Curtis Macomber, Gregory Hesselink En Margaret Kampmeier
Stream:
http://www.mixcloud.com/uurObscuur/horae-obscura-additicius-klaras-iedereen-klassiek/
(Visited 79 times, 1 visits today)