Sombre Soniks Label invited me to make a mix with tracks from their label.
I was quite honored by the request and of course acknowledged the request.
Listen to some of my favorite tracks the label has to offer and while you're at their bandcamp page dig in to their discography!
I highly recommended the works by Siewolf & Nam-khar, Druhá Smrt, Babalith and the free compilations! The rest is great too of course.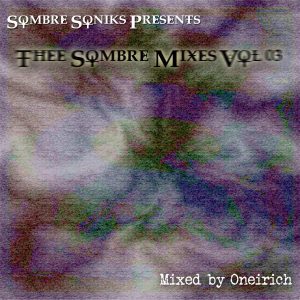 01. Guy Harries – Lumens [Sombre Soniks] :: Download
02. Sielwolf & Nam-Khar – Cron Tabs [Sombre Soniks] :: Download
03. Babalith – Dwellers Beyond [Sombre Soniks] :: Download
04. [ówt krì] & Fecal Fetal – Offensio Valores Edictum [Sombre Soniks] :: Download
05. Immundus & Subliminal Minnie – Hypnagogia [Sombre Soniks] :: Download
06. Uzbazur – The Kult of Muzgûr [Sombre Soniks] :: Download
07. sp3ct3rs – unbecoming [Sombre Soniks] :: Download
08. [ówt krì] – The Lost Souls Requiem [Sombre Soniks] :: Download
09. sp3ct3rs – a thousand points her crown [Sombre Soniks] :: Download
10. Sielwolf & Nam-Khar – Platium Insert [Sombre Soniks] :: Download
11. Misantronics – The Homonymy [Sombre Soniks] :: Download
12. [ówt krì] & Fecal Fetal – While She Awakens [Sombre Soniks] :: Download
13. IA – Perdurabo [Sombre Soniks] :: Download
Download
https://sombresoniks.bandcamp.com/album/thee-sombre-mixes-vol-03
(Visited 77 times, 1 visits today)